How Do the Fish and Plants Stay Alive?
The key is light. Light drives the carbon cycle.
The plants use the carbon dioxide gas and sunlight to grow (make more plant cells). They also give off oxygen gas. This is called photosynthesis.
The fish and snails can use the plant for food (or eat other organisms that eat the plant).
The fish and snails breathe in oxygen gas and use it to change food into energy. They also give off carbon dioxide gas. This is called respiration.
But where's the oxygen and carbon dioxide gas? How do we know it's in the water?
We have some evidence and information that gases can dissolve in water.
We know that living things need oxygen to survive and plants need carbon dioxide to grow. Since they survive for a long time in closed ecosystem we can infer there are O2 and CO2 in the water.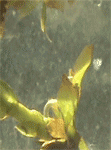 Watch the oxygen bubbles rising from this aquatic plant.
If you look at the plants when the sun is on them you can often see bubbles coming off. When we open a bottle of soda, bubbles quickly come out of the liquid. This shows there are gases dissolved (they are actually CO2 bubbles).
There are also equipment and chemical tests that can be done to test the amount of O2 and CO2 in water.
All of this strongly supports the idea that there are gases dissolved in water.
What would happen if...
Using the image of the carbon cycle above, try to answer the questions below. This will really help you learn and remember how the carbon cycle works! Read the question, think about it, and then look at the answer.
[Image of bottle ecosystem with arrows showing the movement of carbon. Animated gif would be nice. The info and then the arrows darkening or something.]
What happens to the ecosystem if we: (click question to uncover answer)
How can we compare the bottle ecosystem to earth's ecosystem?