The Project
Geothermal Well Drilling
Where to Drill
The question of where to drill is based mainly on finding a spot that is flat enough to park the drilling rig. And the drilling rig is BIG.
Google Satellite Map
Other important considerations include:
» any trees or electrical wires that may be in the way of the drilling rig mast
» the location of gas, water, and sewage lines
» where the geothermal loop will be run into the house.
For our house there was only one possible location: right in the middle of the front yard, about 20 feet from the house. As you can see from the Google satellite map above, we have a very small back yard. In addition, the area on the side with the red car is a steep hill. On the other side are trees and electrical wires. So the only location is right in front of the house.
Below is the view from our living room window.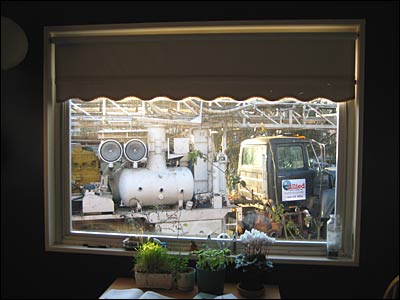 The truck has feet that can help make up for any slope in the yard and keep the rig level. This will keep the geothermal well going straight down while drilling.